Lawmakers Convene in Salem for Legislative Days
Environmental policy is redefining the state's political landscape.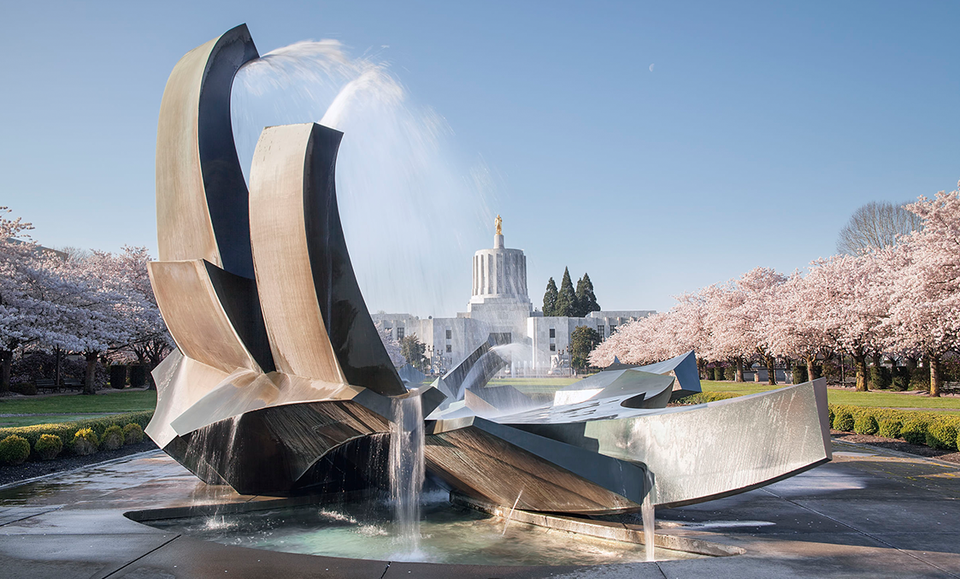 Oregon lawmakers met in Salem this week for their second to last round of interim hearings before the 2020 session. Committee agendas were largely populated by a host of routine topics and administrative updates from state agencies, but the real action occurred outside those hearing rooms as legislators and advocacy groups brace for the election cycle.
Lawmakers are poised to again consider expansive legislation imposing new limits on the state's greenhouse gas emissions to subvert an effort by environmental groups to inject voters into the debate. Last month, a coalition of environmental groups announced an effort to refer three climate initiatives to voters in the General Election if the legislature does not enact a carbon pricing measure. This strategy has become frequent in our state politics—ask for something and, if you lose, threaten to refer something worse to voters to compel the legislature to act—and has proven to be successful. However, the lingering question for many is have the politics have changed enough, if at all, to move the needle on passing a bill?
Three influential voices in the greenhouse gas emissions debate have announced they would not be returning to the legislature. On Monday, Sen. Arnie Roblan (D-Coos Bay) and Rep. Caddy McKeown (D-Coos Bay) announced they would not be seeking reelection after many years of service. On Wednesday, Sen. Cliff Bentz (R-Ontario) announced he would resign from his office in early January to focus on his campaign to represent parts of southern and eastern Oregon in Congress. These lawmakers have played a central role in the debate around greenhouse gas emissions and the announcements may perhaps change the debate but not necessarily in a manner favorable to the interests of the environmental groups.
If the legislature fails to act and if environmentalists are successful in qualifying the climate initiative for the election, it could become a watershed moment in Oregon politics and redefine the political landscape in the state. Many of the announced and anticipated departures from the legislature will open the door for competitive primary and general election campaigns, and a climate initiative could become the central issue of those races. Needless to say, the political tension in Oregon has been high and is showing no signs of weakening any time soon.
State Economists: Oregon's Economy Stable but Slowing
Oregon's economy is continuing to grow despite feeling pressure from global trade wars, low unemployment, and a slackening in business investment, according to a report presented by state economists to a joint legislative committee. The state's economy has been running on all cylinders for several years now, producing substantial gains in household income and tax revenues collected by the state, but is no longer outpacing the rest of the nation.
In Oregon and across the country, recent economic growth has been driven all but entirely by consumer spending while other indicators, such as manufacturing and labor supply, have weakened. The economists warned that consumers can only carry the economy on their backs for so long and anticipate a correction. With that said, the U.S. will soon exit its first decade on record without a recession and economists believe the expansion will continue, albeit at a slower rate of growth.
The state's revenue outlook faces substantial headwinds amid tepid growth. Oregon has experienced robust revenue growth in recent years, largely driven by the strong business cycle, state tax policy changes, and the 2017 federal tax law. The economists warned lawmakers not to expect similar revenue growth looking forward; in fact, their forecast calls for tax collections to stabilize around the same levels as the end of the previous biennium, which is still a sizable gain relative to economic growth. This stable outlook means a low risk of the state's personal income tax "kicker" refund from being triggered for the current budget cycle. Assuming these projections hold, the current budget cycle could become the first time in eight years the state would go without issuing tax refunds to residents.
Looking Ahead: 2020 "Short Session"
Lawmakers will convene again on January 13 for another round of hearings in advance of the 35-day "short" session beginning on February 3. Despite these sessions being limited in duration, the legislature is expected to take on significant political and policy issues involving greenhouse gas emissions, campaign contribution limits and technical corrections to the new gross receipts tax, among many others.
In the most recent session, Senate Republicans fled the building to prevent the legislature from passing the controversial greenhouse gas emissions measure. Some of those legislators have indicated a willingness to leave again if concessions for rural communities and industries are not included in the final policy. So, it begs the question, is there a possibility the legislature does not convene in 2020?