Oregon Voters Largely Favor Establishment in Primary Election
Oregonians are unhappy with the status quo but do not associate blame with their incumbents at the end of the day.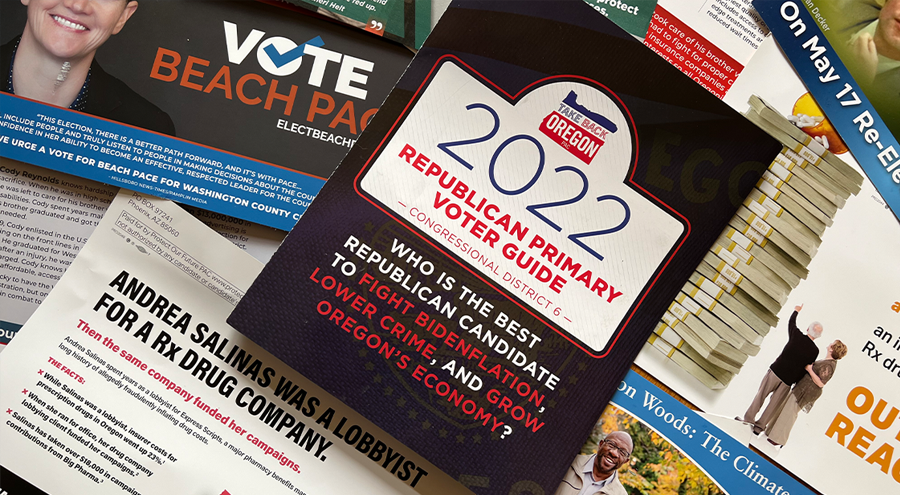 Election Summary
Oregonians are unhappy with the status quo but do not associate blame with their incumbents at the end of the day. That was the key takeaway from last night's election, where incumbents and the establishment mostly triumphed over candidates presenting themselves as outsiders. Up and down the ballot, from city and county races to the gubernatorial and congressional races, primary voters largely anointed the establishment class as their champions.
Public opinion research in the lead-up to the election indicated that voters were discouraged by the status quo and sought change. In a poll released in late April, only 18 percent of respondents said the state was heading in the right direction and only 27 percent preferred candidates with experience over an outsider. Last night's election results fell short of the doomsday scenario many pundits painted for the establishment and incumbent candidates, with challengers in most contested races lacking the support needed to oust current leaders.
Although Oregon has a long history of conducting efficient elections entirely by mail, the current election is likely to feature long delays. Until recently, Oregonians were required to return their ballots by Election Day. However, during the 2021 legislative session, lawmakers amended state voting laws to require election workers to count ballots so long as they are postmarked by Election Day. This law change will add up to a week for officials to release a complete accounting of election results and potentially delay calling competitive races.
In Clackamas County, spanning Portland's southeast metro and Mt. Hood, the wait for official results will be painstakingly longer. Earlier this month, the third most populous county announced a catastrophic printing error affecting two-thirds of ballots would require election workers to count by hand instead of the machine readers used to generate rapid results. The county announced today that it is only counting ballots and not tallying results until tomorrow, so it will take considerable time before numbers trickle out. It is also possible that it could take days or weeks to determine winners in contested races.
Gubernatorial Primaries
Despite the delays in Clackamas County, there were still plenty of races called without much delay. Primary voters nominated two heavyweight politicians, former House Speaker Tina Kotek (D) and former House Republican Leader Christine Drazan (R), as their party's candidates in the gubernatorial election. While a Republican has not held the governor's office in 35-years, Republicans and many political watchers believe this cycle represents a rare opportunity to harness voter frustration and reclaim lost ground. Another factor contributing to the closely followed race is the emergence of former longtime State Senator Betsy Johnson, also a political heavyweight in her own right, as an unaffiliated candidate. Despite not being in a primary contest herself, Johnson has already raised more than $8 million for the race, far outpacing her party-nominated opponents. Oregon's last, and only, unaffiliated governor was Julius Meier, who served a single term from 1931 to 1935. Most insiders discount the ability of any unaffiliated candidate to ascend in our entrenched two party system. Nevertheless, Johnson's ability to win over voters and, more importantly, which voters she garners support from, could dilute the pool of voters enough to influence the election outcome.
Congressional Primaries
Among those races in Clackamas County that politicos are watching closely is a primary contest for Congressional District 5. Longtime Rep. Kurt Schrader, one of the most moderate members in the U.S. House of Representatives, faced a challenge from the party's progressive wing. Throughout the race, progressives criticized Schrader's vote against a more liberal pandemic relief bill and support for the pharmaceutical industry. These positions upset the party faithful so much that some county parties changed their rules to endorse his challenger, Jamie McLeod-Skinner. Ironically, Schrader was President Biden's first endorsement of the election cycle. Currently, he trails McLeod-Skinner 61 percent to 38 percent, but 45 percent of registered Democrats in the district reside in Clackamas County. The ultimate winner in the race will face former Happy Valley Mayor Lori DeRemer in November.
Oregon's other contested congressional races were much quicker to call last night. In the new district spanning southwest of Portland to Salem, State Rep. Andrea Salinas (D) defeated seven opponents by more than double her closest challenger, Carrick Flynn (D). Flynn, a political newcomer, and an aligned Super PAC funded by a crypto billionaire spent almost $12 million on the race, making it the most expensive primary for the U.S. House in the country's history. Salinas will face Mike Erickson, a Republican businessman, in the fall. In a district spanning from Eugene to the coast and down to the California border, Labor Commissioner Val Hoyle (D) handily beat several newcomer candidates with more than 60 percent of the vote. In the fall, she will run against Alek Skarlatos (R), who lost his congressional bid in the same seat in 2020.
See the Oregon Secretary of State's Election Results page for up-to-date results on these and other contests.